DAVID HORN
DECATUR CITY COUNCIL
Recent News
Thank you Decatur Police Officers - See more
Decatur's population continues to decline - Learn more
Should ADM be allowed to store an air pollutant under the city of Decatur? - Read more
Thank you Macon County Continuum of Care for your efforts to reduce homelessness - See more
Economic mobility begins with housing stability. The Decatur City Council must do more to improve where people live - Learn more
The role of blight removal in reducing Decatur's gun violence - Read more
The good, bad, and ugly of Decatur's neighborhood revitalization efforts - See more
As national day of racial healing nears Decatur City Council must do more - Learn more
Decatur's urban core is burning. The city must do more to put out the flames - Read more
Decatur's most vulnerable suffer greatest losses from city actions - See more
Decatur residents lost $46.2 million to video gambling in the last 12 months - Learn more
Cannabis dispensaries are one step closer to being in Macon County. They should be located in Decatur - Read more
Selling greenspace for a development is poor public policy - See more
Despite significant investment, sediment continues to accumulate in Lake Decatur annually - Learn more
David Horn's Policy Positions
Proposed use of $17 million in American Rescue Plan funds fall short in addressing Decatur's needs - Read more
Decatur's neighborhood revitalization initiative needs to keep pace with rate of blight - See more
Decatur's long-term water sustainability plan falls short - Learn more
Decatur should have a cannabis dispensary and other cannabis-related businesses - Read more
The number of video gambling establishments in Decatur should be reduced - See more
Restricting the ability for public comment at council meetings was shortsighted - Learn more
When it comes to public safety, following laws should not be a matter of convenience - Read more
Decatur's population falls below 70,000 - See more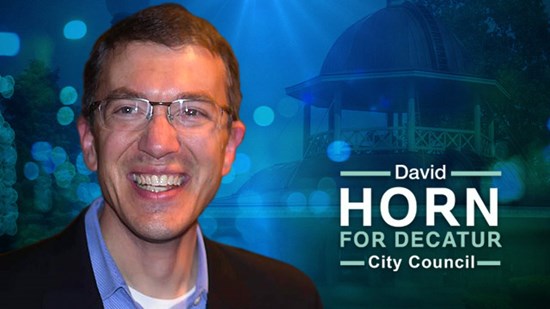 Dr. David J. Horn proudly serves on the city council in Decatur, IL. His second term runs from May 2021 - April 2025.
Information about recent and upcoming Decatur City Council meetings, as well as the latest news about David's work on the council, can be found on this webpage. Visit Councilman David Horn's Facebook Page - Horn for Decatur for timely information on topics to be discussed at council meetings, summaries of each meeting, statistics about the city, and responses to concerns of community members.
Decatur City Council member David Horn is here to help. Please contact him at 217-358-5003 or hornfordecatur@gmail.com when he can be of assistance. Contact information for all members of the city council can be found on the city's website (https://www.decaturil.gov/mayor-and-council/council/).
The Decatur City Council meets on the first and third Monday of each month (except during holidays when the meeting is held on Tuesday). The council may also meet for study sessions and special meetings during other Mondays. The agenda and documents for each meeting are posted on the city's website the Thursday evening preceding the council meeting (https://www.decaturil.gov/mayor-and-council/council-meetings/).
Meetings take place at 5:30 PM in the City Council Chambers located on the third floor of the Decatur Civic Center (1 Gary K. Anderson Place). Free parking is available in the lot immediately south of the entrance. Citizens are encouraged to attend, and 3 minutes per citizen is allotted for public comment near the beginning of each meeting.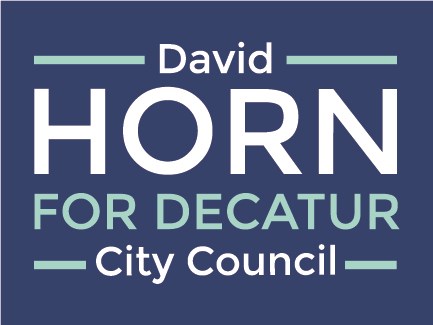 "One of the most important qualities of a leader is to listen, and my first priority has been to meet with as many of the citizens of Decatur as I can. Whether the individuals that I met were struggling or prospering there has been one common theme: Decatur is a kind, caring, compassionate community. Decatur is a city poised for positive transformation with its best days ahead of it." -David Horn